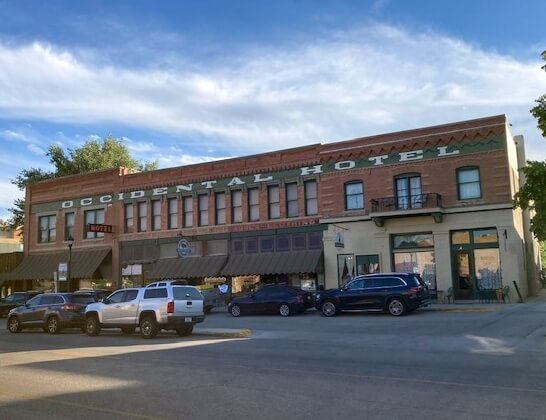 "Oh my God," John murmured. The way he said it revealed what he had just eaten was orgasmically good.
Our trip toward Sheridan, Wyoming, to attend the 2022 Hemingway Society international conference, began with us flying into Denver, Colorado, then heading north in a rental car. It would be a six-hour drive. Beforehand we had printed out the text from an audio guide to Hemingway's Wyoming—one recommended by conference organizers—to follow along and check out places of interest.
We decided to stop in Buffalo. It was only a short drive from there to Sheridan, and the travel guide told us: "Up ahead, look for the Occidental Hotel, a historic brick building that might make you feel as if you've gone back in time to the 1920s when Ernest Hemingway first stopped here on his way to Sheridan, where he hoped to complete his novel A Farewell to Arms." The only thing was how were we to get there from the highway?
"Would you take a look at the map?" John asked, referring to an almost useless grey square of lines and squiggles printed alongside the text. "What's the closest crossroad?"
"Hmm, I am seeing only rivers," Sharon said, peering at the map. "I don't want to tell you to turn onto a river." We both laughed and decided it probably was best to rely on a phone GPS system to make it there.
Buffalo's historic downtown revealed an area of pre-and-turn-of-the-twentieth-century buildings adorned with giant murals. It was as if the Old West had met modern art in a proverbial one-street town. In the latter part of the 1800s, when the Occidental Hotel was founded, witnesses said "Buffalo was a rogue society," and several newspapers of the era described it as the "most lawless town in the country." We found it absolutely charming.
Inside the Occidental, Edwardian-era plush furniture filled the main room, and on display were a number of delightful old-fashioned hats. Veering through a side door, we entered a large, crowded room extending back well into the depths of the building. We were in the bar and dining area. Under a beautiful stained-glass lamp stood the hotel's original 25-foot bar; and visitors are encouraged to look up, to see remnants of old bullet holes in the ceiling.
After securing a small, round table with two high barstool-type chairs toward the back, we ordered two dirty martinis and examined the simple, laminated menu. Though the choices were limited, this was not the standard pub fare one would find in a bustling city. Having already learned of the massive food portions served in the American West, we decided to share a meal. But what to order?
"The bison burger?" Sharon offered.
"That's probably not an easy thing to split," John replied. "How about the beef tips?"
The tips came unprepossessingly slopped onto a bed of egg noodles, coated with dark gravy.  The waitress handed over some cutlery and disappeared.
John took the first bite, and that was when the unexpected reaction of pure pleasure escaped. 
In turn, Sharon lifted a portion of warm beef and noodles to her mouth, and the resulting shock made her pause. "I think that's the best gravy I have ever eaten."
Ernest began coming to Wyoming in the late 1920s, partly to escape his own celebrity following publication of The Sun Also Rises. He called Wyoming "damn lovely country." Our visit to the Occidental Hotel suggested, however, another reason why Hemingway kept returning to the State. After the first bite of beef tips, we had fallen in love with Buffalo.
So far, everything about Wyoming and our visit to this small town where Ernest once hung out had upended our assumptions. As it turned out, though, it was only the beginning of the ways in which this place would charm us. Crazy Woman Liquors remained to be discovered, and the cowboy had yet to sing.
Works Cited
John W. Davis. "The Johnson County War: 1892 Invasion of Northern Wyoming" WyoHistory.org: A Project of the Wyoming State Historical Society. https://www.wyohistory.org/encyclopedia/johnson-county-war-1892-invasion-northern-wyoming. Accessed 11 Aug. 2022.
"Hemingway Highways – Sheridan: Ernest Hemingway's special connection to Wyoming." Audio Tour. Presented By WY Humanities Council. https://web.travelstorys.com/single.php?k=9ukdSnMx01ExuG01PCrg. Accessed 11 Aug. 2022.
"The Historic Occidental Hotel" https://www.occidentalwyoming.com. Accessed 11 Aug. 2022.
"Traversing Wyoming with Ernest Hemingway." Travel Wyoming. https://travelwyoming.com/article/traversing-wyoming-with-ernest-hemingway/. Accessed 13 Aug. 2022.
Sharon Hamilton is a member of the Hemingway Society Board. She has blogged previously for the Hemingway Society about visiting Hemingway and Hadley's Chicago Apartment and about Hemingway's New Orleans.
John Hargrove is a Michigan-based writer and Hemingway researcher; he is also the founder of "Ernest Hemingway: The True Gen," an online community of Hemingway researchers and aficionados hosted on social media.
Sharon Hamilton and John Hargrove, September 1, 2022