Sharon Hamilton
My Journey to New Orleans and the Site of Hemingway's First Professionally Published Work of Fiction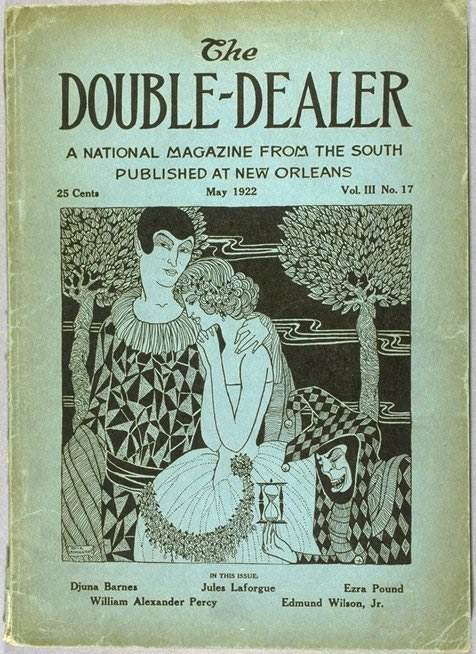 Like so many aspiring writers, at the beginning of his writing life Hemingway experienced difficulty in finding a publisher willing to accept his fiction. Although by the early 1920s he had already published a sizeable amount of journalism, at the start of 1922 his fiction writing showed little promise of success. While he was then – as he could not have known – only a few years away from publishing a magisterial collected work of short stories (In Our Time) and a celebrated novel (The Sun Also Rises), he was still finding it hard to place his fiction.
In the spring of 1922 that situation suddenly changed.
Hemingway's mentor Sherwood Anderson suggested he send something to a New Orleans-based literary magazine called the Double Dealer. Anderson published his own work in the Double Dealer and viewed the magazine favorably. They accepted both of Hemingway's submitted works: a short satirical piece titled "A Divine Gesture" (at the link, scroll or jump to #273/page 267), published in May 1922, and his poem "Ultimately," published June 1922 on the same page as a poem by another struggling newcomer: William Faulkner.
In 2018, on a trip to New Orleans, I was determined to seek out the location of the magazine that had given Ernest Hemingway his start as a published writer of fiction. But, a hundred years later, would I be able to find where it had once been? All I had to go on from Craig Monk's chapter on the history of the Double Dealer in The Oxford Critical and Cultural History of Modernist Magazines was that the magazine's offices had been in "a building on Baronne Street, on the southwest edge of the French Quarter." I knew the street, but what was the address?
The Hemingway story the Double Dealer published is a kind of fable consisting of a conversation between God and an angel. Julius Weis Friend, one of the founders and an editor of Double Dealer, called it "a blasphemous bit of prose foolery." While "A Divine Gesture" may not seem particularly funny to readers today, Hemingway scholar Robert Trogdon (who included the story in his Library of America collection Ernest Hemingway: The Sun Also Rises & Other Writings 1918-1926) pointed out that this may be because we're no longer able to fully understand the context in which the story appeared. "My guess," he answered to my inquiry, "is that he is writing what he considered a parody of some the work going on in Paris in 1922 or it is a satire of the American evangelical movement in the 1920s. But nothing is certain."
Though "A Divine Gesture" remains a bit mystifying in terms of what Hemingway hoped to accomplish, upon publication it appeared among impressive literary company. Despite its small circulation, the Double Dealer was an exciting magazine that garnered international attention. The same issue in which "A Divine Gesture" appeared included work from such major modernist writers as Djuna Barnes and Ezra Pound.
Yet for the Double Dealer, ability to spot important emerging talent was not enough to overcome ongoing financial difficulties and the magazine ceased publication in 1926. As for Hemingway, by 1926 he had reached universal fame with The Sun Also Rises. With respect to "A Divine Gesture," the piece that launched Hemingway's fiction career, its main importance appears to be that of any fiction writer's first acceptance: what it offered to him in terms of encouragement.
Before heading New Orleans, I decided the best way to find the location of Double Dealer was to contact Craig Monk. Internet research led me to his email address. I sent a message into the universe, and I was lucky. I received an answer. "204 Baronne Street," he kindly replied. "Always best to keep primary documents."
With an address in hand, I was off on my adventure.
To be continued in Part II
Works Cited
Cox, Leland H. "Julius Weis Friend's History of the 'Double Dealer.'" The Mississippi Quarterly, vol. 31, no. 4, 1978, pp. 587–604. JSTOR, http://www.jstor.org/stable/26474590. Accessed 26 May 2022.
Double Dealer. Index of Modernist Magazines. https://modernistmagazines.org/american/the-double-dealer/#1464124281476-e258061f-1195d265-2720. Accessed 27 May 2022.
Double Dealer, May 1922, Front Cover. https://modernistmagazines.org/wp-content/uploads/2010/08/doubledealer2.jpg
Hemingway, Ernest. "A Divine Gesture," Double Dealer vol. 3, no. 17, 1922, pp. 267-268. https://babel.hathitrust.org/cgi/pt?id=mdp.39015041817886&view=1up&seq=466&q1=May%201922. Accessed 27 May 2022.
---. "A Divine Gesture," The Sun Also Rises & Other Writings 1918-1926 Ed. Robert Trogdon (New York: Library of America, 2020), pp. 121-123.
---. "Ultimately," Double Dealer vol. 3, no. 18 1922, pp. 337.  https://babel.hathitrust.org/cgi/pt?id=mdp.39015041817886&view=1up&seq=3... 27 May 2022.
Monk, Craig. Email to the author. 16 April 2018.
---. "Negotiating the Margins of the American South: The Double Dealer (1921-9)." The Oxford Critical and Cultural History of Modernist Magazines Volume II, North America 1894-1960. Eds. Peter Brooker and Andrew Thacker (Oxford, Oxford UP, 2012), pp. 523-537.
Trogdon, Robert. Email to the author. 12 May 2022.
Sharon Hamilton is a member of the Hemingway Society Board. Her work on Hemingway appears in Hemingway in Comics and Teaching Hemingway and Modernism, and she was a guest for the OneTruePodcast episode on Hemingway and Baseball. She has blogged previously for the Hemingway Society about visiting Hemingway and Hadley's Chicago Apartment.
Sharon Hamilton 06/02/2022