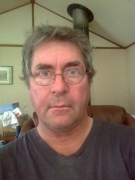 Australian poet Kevin Densley here. Just thought I'd share my Hemingway-related poem, "Great Literary Fistfights of the Twentieth Century: Wallace Stevens vs. Ernest Hemingway, Key West, Florida, 1936". The poem, which appears below, was originally published in the Australian magazine, Quadrant, in 2004, and referenced in The Hemingway Review, Spring 2005,  in its "Current Bibliography" section. Following this, the poem appeared in my Australian poetry collection, Vigorous Vernacular, published by Picaro Press in 2008. I've often thought it fitting that the piece be reproduced in full in connection with The Hemingway Review, and figured that this blog provided the ideal forum for doing so. My main source for the detail in the poem was Peter Brazeau's oral biography, Parts of a World: Wallace Stevens Remembered.
GREAT LITERARY FISTFIGHTS OF THE TWENTIETH CENTURY:
WALLACE STEVENS VS. ERNEST HEMINGWAY, KEY WEST, FLORIDA,
1936
Kevin Densley
Hemingway's sister came back from a party,
told Ernest that Wallace Stevens
had called him something bad.
He-man Ernie bristled, declared
he'd find that Stevens and sort him out.
He got to the party. A scuffle ensued
between Ern and tipsy Wally.
Big Ernie knocked even bigger Wal
a couple of times to the ground.
With the only punch he landed, Wal
broke his hand on Hemmy's jaw.
Now in spite of his reputation, Ern
wasn't much of a fighter.
He liked the low blow, the sneak punch,
picked on those (like Wal)
unschooled in the fistic arts.
Anytime he encountered
a man who could really box,
Ernie dropped like a sack of coal.
In his bout with Wallace Stevens, it's clear
the poet, ethically, won on points.
 
Kevin Densley, July 20, 2018