CONFERENCES
The Hemingway Society holds biennial conferences in places significant to Ernest Hemingway, in both U.S. and international venues. The conferences are typically held in June or July of even-numbered years and feature scholarly and creative treatments related to Hemingway's life and work, usually around a theme inspired by the location. The conferences also feature events germane to Hemingway's life and work.
Our next Society conference is scheduled for 14-20 July 2024 in San Sebastián and Bilbao, Spain.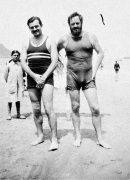 Hemingway with Waldo Peirce
San Sebastián 1927
More information coming soon.
Click here for a list of past conference locations with links (when available) to the conference program and photos.
WEBINARS
New webinars are in the planning.  Look for a webinar on "Hemingway, Other Modernists, and Little Magazines" in July.  This event will include a sneak peek at the 2024 conference at the end!
And in the Fall, look for webinars on Hemingway's In Our Time and Hemingway in Toronto.