XVIII International Hemingway Conference
Hemingway in Paris
"Paris est une fête" . . .
Hemingway's Moveable Feast
JULY 22-28, 2018
Conference Co-Directors: H. R. Stoneback & Matthew Nickel
Paris Site Coordinators: Alice Mikal Craven & William E. Dow
Host Institution: The American University of Paris (AUP)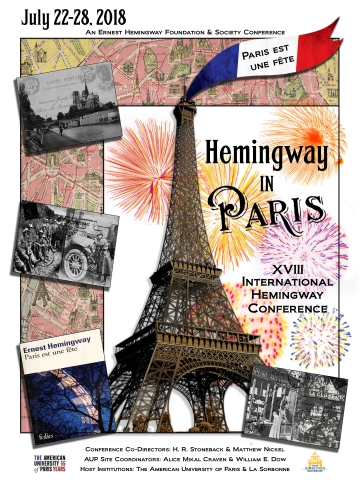 Dear Colleagues:
From the beginning, we promised that the Paris Conference would be a once in a lifetime event, and we believe that you will not be disappointed. The final program is ready and we ask that you take the time now to look it over carefully and see important details about the academic schedule, special events, venue restrictions, and general overall conference flow.
The schedule of papers has shifted slightly, so notice time and panel changes. Please limit papers (as per our policy stated in March and April and now on the Helpful Information section of the Program) to 15 minutes on 4-person panels and 18 minutes on 3-person panels.
Please see the security details and note that you must have your passport and conference badge with you at all times to enter conference venues. Only small essential bags permitted--no backpacks. 
We look forward to seeing you all soon, in France! (And the band
plays on: "I Love Paris")
Matt & Stoney
 
REFUND POLICY:
Medical Reasons: Full refund of Conference Registration for medical reasons with documentation at any time.
All Other Reasons: No refund after April 15th of Conference/Optional Event Registrations for all other reasons.
REGARDING A/V:
Please keep in mind that each presentation room at The American University of Paris (AUP) is equipped with a PC smart desk and universal VLC capacity in the event that you have American DVDs to show. 
For those who will utilize A/V for their presentation, we advise the following: 
 1) Bring your presentation on a USB key
 2) Email your presentation to yourself
The above is to ensure that you will have access to your presentation, since AUP does not have sufficient adapters to ensure that American MAC users will be able to connect their computers to the smart desks.