John Edmonds Sanford
December 27, 1930 – October 16, 2016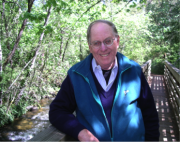 The Ernest Hemingway community celebrates the life and work of John Edmonds Sanford, an independent scholar and the nephew of Ernest Hemingway. John was the youngest child of Ernest Hemingway's older sister Marcelline Hemingway Sanford. John graduated from Yale University with a major in English literature. He retired from a career in banking and computer software for banks.
John Sanford was an active contributor to Hemingway scholarship in the United States and abroad for decades. He presented papers at International Hemingway Conferences in Paris and Les Saintes Maries, France; Oak Park, Illinois.; Bay View, Michigan and Bimini, Bahamas; at the First International Hemingway Conference in Havana, Cuba; the MLA Conference in Baltimore; the USAF Academy in Colorado Springs; the Sanibel, Florida Hemingway Conference; the St. Francis and San Francisco Yacht Clubs and at libraries in Tiburon, California, Ketchum, Idaho, and at three Michigan Hemingway Society Conferences in Petoskey, Michigan.
The Hemingway Review published John's review of Michael Federspiel's book Picturing Hemingway's Michigan in 2012, as well as John's remembrances of his cousin Jack Hemingway. The North Dakota Quarterly published John's paper "A Garden of Eden, Hemingway's Last Lot" in 1999 and "Hemingway and Painting: Omissions and Connections" in 2004. Sanford's short story, "Vaya con Dios Dyersville," was published in the History of Iowa, Vol. ,7 in 1996.
John was editor of At the Hemingways, Centennial Edition, with Fifty Years of Correspondence between Ernest and Marcelline Hemingway Sanford, published by the University of Idaho Press in 1999. With his wife Judy, Sanford made readings of the letters in that book throughout the United States. One of the Sanfords' presentations was made into a video production entitled "The Letters," published by the Ernest Hemingway Foundation of Oak Park.
With his sister Carol and brother James (Jim), the Sanfords donated archival materials to the Oak Park Foundation beginning in 1991. These items make up the majority of the Marcelline Hemingway Sanford Collection. They include several hundred photographs of the entire Hemingway family, books and magazines owned by Marcelline Hemingway Sanford while she lived in Oak Park, and letters, clippings, memorabilia, clothing and accessories, furniture and household items, works of art and items related to the first edition of At the Hemingways.  John Sanford donated additional items throughout the 1990s and 2000s, including Marcelline's baby scrapbook and a family bible. A recent grant to the Oak Park Public Library where the archives are housed, enabled the digitization of many photographs and artifacts now available in the Illinois Digital Archive and the Digital Public Library of America.  John Sanford was very proud of these unique and valuable contributions now available to scholars and aficionados worldwide.
Like his uncle Ernest, John was an avid sailor and his travels took him on voyages from Chicago to San Francisco in 1978-79, San Francisco to Tahiti in 1993, and many charter boat voyages in Turkey, Greece, Spain, France, England, Sweden, Maine, Nantucket Sound, the Caribbean, Mexico, Hawaii, Tonga and Thailand. 
He presented photographic and spoken descriptions from a family/sailing memoir titled The Going Home Voyage, a Hemingway Odyssey at the July 2016 International Conference in Oak Park.
He was a friend and mentor to many in the Hemingway and sailing communities. Above all, John Sanford is remembered for his gentle spirit, his great smile, his sense of humor and his passion for the future of our world.
John Sanford is survived by his wife, Judy, and children, Eric Drake Sanford, Walter Edmonds Sanford, and Sarah Hemingway Sanford.
In June 2016, while preparing for the Oak Park Conference he wrote. "This may be my last International Hemingway Conference.  I've been to about half of them … I have sailed my "Hemingway Odyssey" and traced my family history.  It's been a good journey. I feel that it is time to endow the next generation.  It is time to go home."
One of John's favorite quotations follows:
We shall not cease from exploration.  And the end of all our exploring will be to arrive where we started and know the place for the first time. -- T. S. Eliot
John Sanford led a  rich life full of adventure, exploration and discovery.  From all of us who knew and loved him "Sail on, dear friend ..."
John Sanford asked that memorial contributions be made to the Ernest Hemingway Foundation of Oak Park, P.O. Box 2222, Oak Park, IL 60303 or by PayPal.
John W. Berry, Virginia Cassin, and Scott Schwar, The Ernest Hemingway Foundation of Oak Park, October 24, 2016