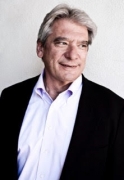 Mark Richard, 1990 PEN/Hemingway Award Winner for The Ice at the Bottom of the World
Q: I read that you were born in Louisiana and raised in a racially divided town in Virginia. Can you tell us what that was like?  
A: I grew up in Southampton County, Virginia, where the Nat Turner insurrection took place. When I was in fifth grade, a boy brought a short board to school with a piece of leather tacked to it for Show-and-Tell. He passed it around, getting us to guess what it was. It was a family heirloom. It was a piece of Nat Turner's skin. After they caught Nat, they hung him, spiked his head at a crossroads, skinned him, boiled him into fat, and made things from his skin—coin purses and bible covers. I don't think I've ever gotten over that.  The impetus for writing "House of Prayer No. 2" was trying to find all the pieces of Nat I could find. The rope they hung him with used to be in the courthouse basement. A lady in Virginia Beach had his Bible, a man in Chicago claimed to have his skull.
Q: Can you tell us where you received the inspiration for the title story of The Ice at the Bottom of the World?  
A:  I dated a woman from Gwynn's Island in Mathews County, Virginia, in the Chesapeake Bay. There's a great book about the maritime tradition of this place (The Mathews Men: Seven Brothers and the War Against Hitler's U-Boats by William Geroux) that I highly recommend.  I loved living in Mathews, the people, the water, their way of life. When that little drawbridge went up on Gwynn's Island, you were in a different world. I loved my girlfriend's father's stories of being at sea, he'd also been in the Pacific in World War II.  Plus, my girlfriend learned to tap dance and I liked to watch her do it naked.
Q: I see that you are a TV and movie writer and producer.  What are some of the works that we would be familiar with, and what are you working on now in that medium? 
A: The most fun I've had out here in Hollywood has been showrunning "Hell on Wheels," a western about the building of the transcontinental railroad. We had 10,000 acres in Alberta Canada to play in, two rivers, we built two towns, had a mile of track, three locomotives, 110 horses, and an amazing cast and crew. AMC to their credit, pretty much left us alone to write real fictional stories with some traces of true events in them.  I was also able to slip in some moral dilemmas when I could, plus humor and tragedy. One of my favorite episodes begins when the main character is nailing telegraph wire back to a pole the natives have pulled down, smashes his thumb with a hammer, and makes a rash decision that ends with the deaths of several men, though they were cattle rustlers. In the end, the church lady admonishes him for the killings while eating the steak he has brought to her to keep her from starving.
Q: You attended Washington and Lee University in Virginia. Was there anyone there who inspired your career as a writer?  
A: Hands down, Jim Boatwright, an English professor who was also editor of Shenandoah magazine and published my first short story.  Dabney Stuart who led an amazing "Ulysses" workshop that changed my life, and Patrick Frank, who turned me on to Tom McGuane, Celine, Richard Brautigan.
Q: Where do you live now, and are you working on any new film and TV ventures at the moment? 
A: I live in South Bay Los Angeles, commuting an hour and 40 minutes each way to work in North Hollywood.  Currently, Ethan Hawke and I just sold an adaptation of James McBride's wonderful novel The Good Lord Birdto Showtime. It's a limited series about the last two years of abolitionist John Brown's life before Harper's Ferry, as told through the eyes of a mixed-race cross-dressing boy. It's a dark satire, in the vein of Huck Finn with the tone of the movies "True Grit" and "Little Big Man."  We're beyond thrilled.
Q: Are you engaged in any literary projects now, as well? 
A: I keep writing these little stories based on a character in my first book named Genius.  "Genius Goes to Brenda's House," "Genius and the Mechanical Jesus," "Genius and the Bundt Cake," "Genius and the Death Threat From Sears, ""Genius Goes to Hell," "Genius Shoots That Guy," things like that. I have some longer short stories that I like to work on between shows
Q: Do you have a favorite Ernest Hemingway book or short story?  
A: "Indian Camp" is probably my favorite short story. I was really knocked down by the Nick Adams stories.  
Q: Do you remember where you were when you won the PEN/Hemingway Award? 
A: I was living in a nightclub/performance space called Gusto House in Alphabet City, 4thSt. between A and B avenues in New York. The most memorable aspects of the award ceremony at the Kennedy Library in Boston was being introduced by Norman Mailer and Josephine Humphreys, with whom I became long time friends.  Also, Mrs. Onassis insisted that I sit next to her at the dinner, and we had a long talk about migratory fowl routes and flyways up and down the eastern seaboard. In part of my remarks, I recalled how when I was in body casts as a child, my mother would bring grocery bags of books from the local library. After the ceremony when I returned to New York, Mrs. Onassis arranged for me to see one of the top orthopedic surgeons in the city. I think he was Teddy Kennedy's back doctor. It set me on the path to having hips replaced.  I didn't have insurance, and I was always worried how I would pay.  Finally, the doctor's office got annoyed with my calls asking how much I owed and they said there were no charges; Mrs. Onassis had taken care of everything.  We became pen pals, she wrote wonderful notes on powder blue writing paper.  She was very interested in the Great Dismal Swamp in Virginia and I was arranging a canal tour for her when I learned she had passed away. Whenever I think of the PEN award, I always think of her and her grace and generosity.
Wayne Catan, Brophy College Preparatory , June 4, 2019