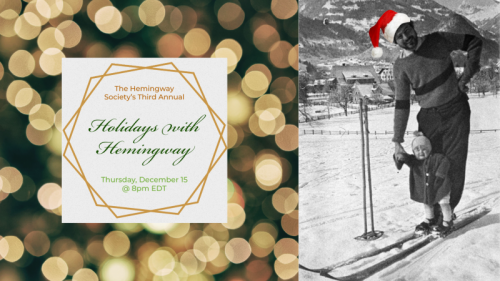 Dear Hemingway friends,
You are warmly invited to the Hemingway Society's Holidays with Hemingway Virtual Party on Thursday, December 15th at 8 pm EDT. 
We will meet via Zoom, so we will be able to see each other and chat and interact! It is open and free to all Hemingway aficionados.  
This year, we celebrate with music (bells and guitar), a live interactive Hemingwordle game, a holiday-themed six-word-story contest, and, of course, a signature cocktail. Details on all the activities will follow in an email in December. 
Attendees are encouraged to find a festive background (real or virtual) and come prepared with a beverage of choice to share some Holiday cheer! We will have prizes for Hemignwordle winners and the story contest winner.
Keep an eye on your email for more details in early December.
We hope to see you at the Party!
The Media Committee