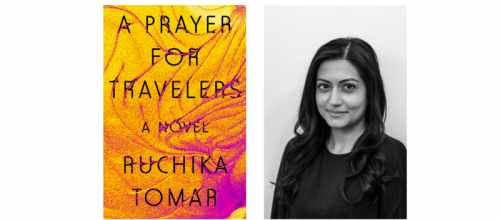 Ruchika Tomar, A Prayer for Travelers (Riverhead)
Critically-acclaimed debut novelist Ruchika Tomar is the winner of the 2020 PEN/Hemingway Award for Debut Novel, for A Prayer for Travelers (Riverhead).
Award citation:
"A Prayer for Travelers by Ruchika Tomar is a remarkable piece of writing, astute in style and structure and also in the story that it tells. Unfolding in a small town in Nevada, it traces the friendship of two women, a relationship that grows complicated until it shatters, and one of the friends disappears. Tomar is an exquisite writer, and A Prayer for Travelers is marked by a deft and deeply rendered sense of place. Even more, the novel pushes back against our preconceptions, shifting fluidly in time to evoke a sense of the floating nature of existence, especially for characters such as these, who find themselves, in nearly every way that matters, having to reckon with what it means to live on the periphery."
Hailing from California's Inland Empire, Tomar, holds a BA in English literature from the University of California Irvine and an MFA from Columbia University. She has received fellowships from the Center for Fiction, the MacDowell Colony, and Vermont Studio Center. A former Stegner Fellow, Tomar is currently a Jones Lecturer at Stanford University.