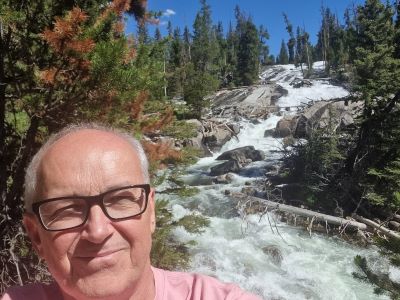 Author Dermot Ross at Crazy Creek, near Silver Gate, Montana
A Kiwi Visits Hemingway Cowboy Country, Part I
Blog coordinator's note:  A version of this article was first published in the ReadingRoom section of Newsroom, a New Zealand online news service.   
Few would deny that Ernest Hemingway is one of the most well-known and studied writers of the last two centuries. People know far more about his life and works than they do about Tolstoy or Dickens, or more modern names like J.K. Rowling. Hemingway's literary output continues to stand up well to scrutiny seventy to one hundred years after publication.
But it is the legend of the man that always fascinates. Most literary aficionados know as much about the great writer as they do about his literature. He married four times; he honed his macho qualities around boxing, bullfighting and big-game hunting; he drank copious amounts of alcohol; he was a misogynist; he alienated friends, like Gertrude Stein and F. Scott Fitzgerald. And we remember his spectacular suicide on July 2, 1961, aged 61.
The Hemingway Society is a US-based organisation, dominated by professors and lecturers from American universities. The Society is dedicated to studies of Hemingway and his works. It fosters seminars and podcasts and scholarly writings. Every two years it hosts a well-attended international conference in a location of significance to Hemingway's life, typically straddling the writer's July 21 birthday.
The 2020 conference was postponed for Covid reasons and was finally held in 2022 in Sheridan, Wyoming and Cooke City, Montana. The two towns—hardly what you would call cities--epitomise the American West that Hemingway loved. Sheridan and Cooke City are five hours' drive apart and separated by the awe-inspiring Bighorn Mountains. The foothills of the Rockies, adjacent to the magnificent Yellowstone National Park, are to the west of Cooke City.
For the past few years I have had cause to study aspects of Hemingway's life and a few of his books. By attending the conference I saw an opportunity to immerse myself for several days in the Hemingway industry. I flew to Billings, Montana, hired a car and drove southeast to Sheridan to meet my fellow delegates.
Hemingway spent many months in Wyoming and Montana, particularly during the late 1920s and the early 1930s. There he wrote the final chapters of A Farewell to Arms and later worked on Death in the Afternoon and To Have and Have Not. He also wrote some of his more memorable short stories from the 1930s, including "The Short Happy Life of Francis Macomber" and "The Snows of Kilimanjaro."
While not writing, he would go on hunting and fishing trips. Tracking grizzly bears and bull elk and hooking large brown trout with his fly rod were the "juice" he needed to produce so many of his stories during this time in a place often overlooked by Hemingway scholars and historians. The conference was replete with photographs of the plunder which he and his friends took from the nearby streams, forests and mountains. In some measure the conference was one way for Hemingway fans to pay respect to a place that was instrumental in Hemingway's life, a place where he was so prolific.
It is impossible to divorce yourself from Hemingway's outdoorsman persona. Significantly, no one in the Hemingway Society or at the conference is too judgmental about his character and his blood sport pursuits. Rather, they see those aspects as a key part of his personality and of his time and which went to the very essence of his writing. Scholars appreciate the quality of the writing and are not overburdened by a distaste for his character and leisure pursuits. Cancel culture has bypassed Hemingway.
Many of the delegates at the conference were of an advanced age, and there were even a few men with Hemingway beards. I was struck, however, by the surprising number of young women academics and students in attendance. They fully appreciate Hemingway, the man and his work, and are a sign that the legend may endure at least for another generation or two.
Dermot Ross is an Auckland lawyer whose first novel, currently titled Hemingway's Goblet, is expected to be published in 2023.
Dermot Ross, September 28, 2022