Due to a bit of careful planning and schedule massaging, this year's Hemingway Society conference would be going on Hemingway's birthday of July 21st.  It was the 117th anniversary of the author's birthday and so it made sense for our Society, devoted to the study of Hemingway, to have a few special events on tap to celebrate the date.
The first of these was a special lunch held in the dining hall of Dominican University. Served a delicious meal of chicken, Basmati rice with fruit, salad, and followed with a cupcake for dessert, we had a good lunch all together and thus got the chance to talk about how everyone's conference was going, whether they had presented their paper or not (I, at that point, had not yet presented mine so I was still thinking about it and getting mentally prepared to present), and general Hemingway Society conference chit-chat. But since this was a special occasion, lunch called for something a little bit out of the ordinary and that came in the form of a champagne toast to the great author on his birthday. After that, we were treated to remarks by three past Hemingway Society presidents—Linda Wagner-Martin, Allen Josephs, and Scott Donaldson—introduced by our current president, H.R. Stoneback. Each spoke about their time with the Society and their presidencies as well as talking about Hemingway. I don't know as much about the history of the society as others do, so hearing the stories and anecdotes was particularly illuminating for me.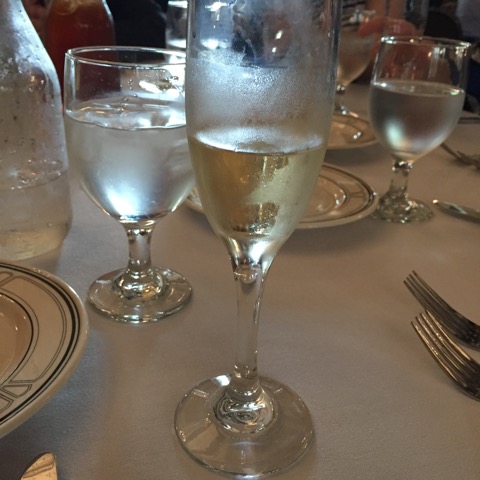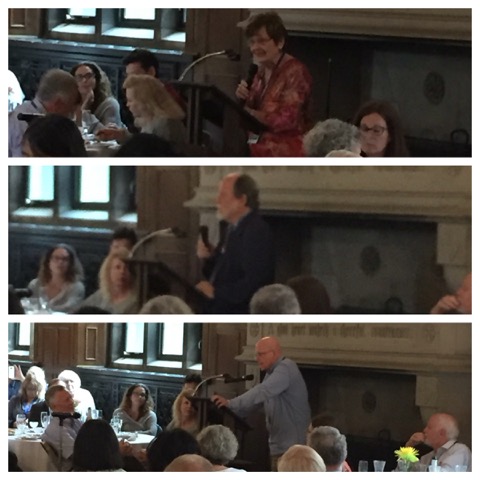 While the lunch served as the polished, refined celebration of Hemingway, the evening featured the more rollicking and robust celebration in the form of Hemingway Trivia. It was emceed by Kirk Curnutt and Robert Trogdon, and you might imagine them as being what would happen if you blended Johnny Carson, David Letterman, and Alex Trebek together (and put a drink in their hand as well). The trivia festivities featured three rounds—an oral round where participants answered questions out loud, a written round where participants teamed up to answer the questions on the sheet (that I took a picture of), and finally the high point (or low point, depending on who you talk to) the pun round in which participants had to deduce what great and/or terrible Hemingway-pun Kirk and Robert cooked up for the occasion.
The first two rounds were, dare I say, surprisingly challenging (though in a fun way, if that makes any sense). I helped Sara Kosiba and her sister Erin score the written questions and I was amazed with the degree of difficulty. I don't know that I would have been able to answer any of them (I don't know that I should be admitting that here… let's not focus on it… moving along). There were jokes, plenty of banter with Kirk and Robert and maybe a drink or two. After all the points were tallied and scores calculated, the winner of The First (And Probably Last) Hemingway Trivia Night was Gail Sinclair's team (which also included the Verna Kale, along with Jon Berry, the chairman of the Ernest Hemingway Foundation of Oak Park, just to name a couple of participants). Reveling in her triumph, I took a picture of Gail with Kirk holding up the ceremonial trophy that they received for their team's trivia victory. But everyone had a fun time and it was a wonderful addition to the program and a wonderful end to a day spent fêting Hemingway.
And, just in case you forgot, Gail won. Gail won.
(She might have strongly encouraged that I emphasize that)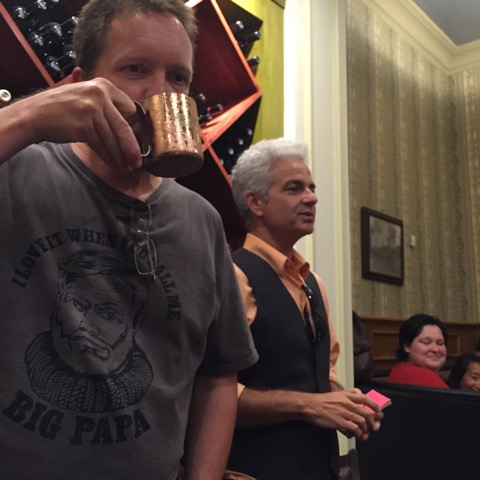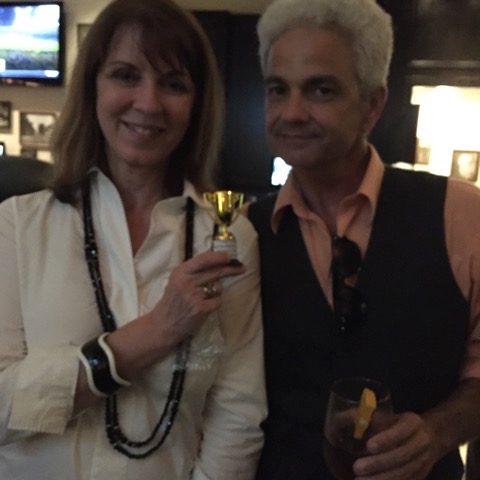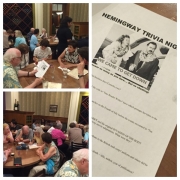 Thomas Bevilacqua, July 24, 2016