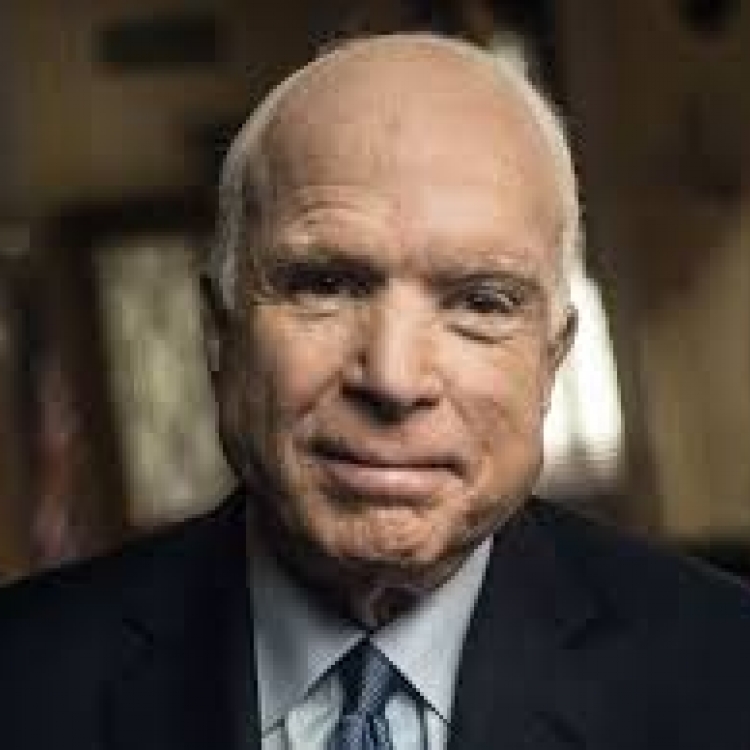 The Hemingway Society joins the nation in mourning the loss of Senator John McCain. He was a voracious reader and passionate advocate of literature who authored more than a half-dozen books. Sen. McCain also happened to be one of the most famous fans of  Hemingway in the world today.
He spoke in particular of his love of For Whom the Bell Tolls and his admiration for Robert Jordan's sense of duty throughout that epic novel of war. The title of McCain's 2002 book on historical figures and fictional characters who inspired him, Worth Fighting For, comes from a meditation of Jordan's as he awaits death in the battle for freedom in the Spanish Civil War: "The world is a fine place and worth fighting for." His most recent memoir, The Restless Wave, quotes the line in full as he acknowledged his own impending mortality as he battled brain cancer: "The world is a fine place and worth fighting for and I hate very much to leave it." He explains the importance of the character this way: "For a long time, Robert Jordan was the man I admired above almost all others in life and fiction. He was brave, dedicated, capable, selfless, possessed in abundance that essence of courage that Hemingway described as grace under pressure — a man who would risk his life, but never his honor. He was and remains to my mind a hero for the twentieth century, my century . . . " 
Sen. McCain's frequent tributes to Hemingway and For Whom the Bell Tolls are a stirring reminder of the lifelong impression a great piece of literature can make upon our vision and values.