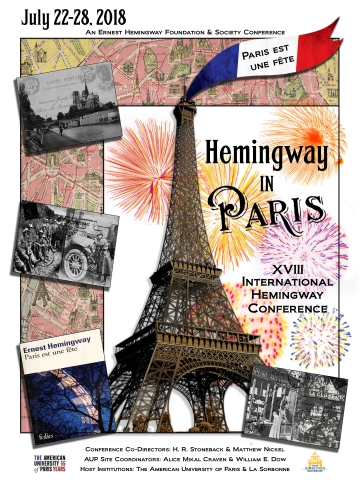 PARIS 2018 CONFERENCE SCHEDULE
PLEASE NOTE: For entry to all regular program sessions and all registration-option special events you must have your conference name-tag AND your passport or other state-certified ID.
All bags will be checked by security, so to avoid lengthy delays, please bring only small essential bags (no knives, blades, etc.). No backpacks allowed in any conference venue.
SUNDAY 22 JULY
     14:00-16:00 (2-4 PM):           REGISTRATION
                                                   AUP Combes Building (6, rue du Colonel Combes)
     16:00-18:00 (4-6 PM):          OPENING RECEPTION & AUP WELCOME
                                                   AUP Combes Building (6, rue du Colonel Combes)
                   16:00-17:00 (4-5 PM): registrants alphabetically by last name: A to L
                   17:00-18:00 (5-6 PM): registrants alphabetically by last name: M to Z
MONDAY 23 JULY
     10:00-13:00 (10 AM-1 PM):    PEN/Hemingway Event  (optional event—pre-registered guests only)
                                                    Eiffel Tower, Salon Gustave Eiffel 
     14:30-17:10 (2:30-5:10 PM):  Paper Sessions 
                                                    AUP Combes Building (6, rue du Colonel Combes) and
                                                    Passage Landrieu (2, Passage Landrieu)
TUESDAY 24 JULY
     9:00-18:30 (9 AM-6:30 PM):  All-day Plenary Sessions at La Sorbonne
                                                   (Terry Eagleton, Annette Becker, Adam Gopnik, et. al.; Presidential Address & Society Meeting)
                                                   Amphithéâtre Richelieu 17, rue de la Sorbonne (5th)
     19:00-20:00 (7 PM-8 PM):    Walking Tours: depart from the Sorbonne
                                                   (17, rue de la Sorbonne)
WEDNESDAY 25 JULY
     9:45-17:50 (9:45 AM-5:50 PM):   Paper Sessions  
                                                   AUP Combes Building (6, rue du Colonel Combes) and
                                                   Passage Landrieu (2, Passage Landrieu)
     19:00-21:00 ( 7-9 PM):          Society Grants/Fellowship Fundraiser  (optional event—pre-registered guests only)
                                                   ALP-American Library in Paris (10, rue du General Camou)
THURSDAY 26 JULY
     9:45-17:50 (9:45 AM-5:50 PM):   Paper Sessions  
                                                     AUP Combes Building (6, rue du Colonel Combes) and
                                                     Passage Landrieu (2, Passage Landrieu)
FRIDAY 27 JULY
     9:45-17:50 (9:45 AM-5:50 PM):   Paper Sessions  
                                                     AUP Combes Building (6, rue du Colonel Combes) and
                                                     Passage Landrieu (2, Passage Landrieu)
     20:00-23:00 (8-11 PM):           Closing Banquet  (optional event—pre-registered guests only)
                                                     Bateau-mouche Dinner Cruise on the Seine (on Le Jean Bruel)
                                                     Embark & Disembark, Pont de l'Alma, Port de la Conférence