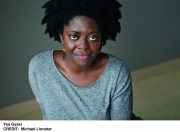 Yaa Gyasi, 2017 PEN/Hemingway Award Winner for Homegoing
Q: You were born in Ghana. Thus, how did your trip to Ghana in 2009 shape the trajectory of the plot in Homegoing?
A:  I had the opportunity to visit the Cape Coast Castle while on my trip to Ghana.  During the tour of the Castle, the tour guide spoke to us about how the British soldiers who lived and worked in the Castle used to marry the local women.  From there he took us down to see the dungeons.  I knew immediately that I wanted to write something that juxtaposed the lives of someone who would be upstairs, free, and someone who would be downstairs, a slave.
Q:  Tell us about Homegoing. Was it difficult writing a book with characters spanning several generations?
A:  Homegoing spans about 250 years of Ghanaian and American history.  Some of this history I knew a bit about, but the novel did require an extensive amount of research, which was by far the most difficult part in the process of writing.  It was also a pleasure too, one that allowed me to learn about places and events that were completely new to me. 
Q:  How did your years at Stanford shape your writing life, and who inspired you there?
A:  Stanford these days feels overwhelmingly tech-centered, so it can be hard for an artist to find her place.  Luckily, there's a really wonderful English department.  I studied with writers like Elizabeth Tallent and Molly Antopol and Patricia Powell, all of whom took my work seriously and made me feel like a life in the arts was possible.
Q: Did you begin writing Homegoing at the University of Iowa while you were earning your MFA? Who was instrumental in your career in Iowa City?
A:  I began writing Homegoing at Stanford, but Iowa was where it really started to take shape.  There, I studied with Julie Orringer, Marilynne Robinson, Wells Tower, Sam Chang, Ayana Mathis, and Daniel Orozco.
Q:  Do you remember where you were when you received the news about winning the PEN/Hemingway Award?  And how has winning the award affected your life?
A:  I was in a hotel room, which is where I've been spending a lot of my time these days!  It was quite a thrill to get that news.  It's just really encouraging to get an award like this, one that is dedicated to writers at the beginnings of their career, because it gives you an extra boost of confidence with which to move forward. 
Q:   Do you have a favorite Ernest Hemingway story or book? 
A:  I like "Hills Like White Elephants."  Hemingway is known for his precision, and that story is pretty masterful at saying only what it needs to say. 
Q:  Are you working on anything new at the moment? 
A:  I've started a new novel, but it's still quite early in the process.  
Wayne Catan, May 31, 2017