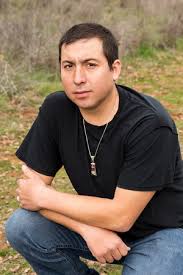 Tommy Orange, 2019 PEN/Hemingway Award Winner for There There
Congratulations onThere Therebeing named a finalist for the Pulitzer Prize for Fiction.
Q: What was it like for you (as a member of the Cheyenne and Arapaho Tribes of Oklahoma) being raised in Oakland, CA? 
A: It was a mixed experienced.  I am bi-racial, so I am a tribal member from my dad and my mom is white. We traveled back to Oklahoma to visit family, and the people there were more authentic.  It wasn't until I was in my twenties when I started working at an Indian Center in Oakland that I realized there were so many others who grew up in the city and had their own relationships with their indigeneity. 
Q: Was there anyone particular at the Institute of American Indian Arts (Orange earned an MFA there) who noticed your talents and helped guide you to become a writer?
A: Yes. Pam Houston. She was the first person to really believe in me. Natalie Diaz, the poet, was encouraging when she heard me read, but really everyone there was encouraging. If I had to say specifically, it would be Pam Houston. 
Q: Some critics say that we are in the middle of a "Native Renaissance."  Do you agree with this assertion, and if so why now? 
A: The only thing I don't like about the idea of a renaissance, or a wave of things, is that they come and go, and that's kind of a sad way to think about it. It comes with many, many years between with the original renaissance occurring in the 70s and a similar one in the 90s. I hate to think of it as just a blip, and having something like the Institute of American Indian Arts allows a possibility for sustainability because it is an institution. Students who come out of the program have access to the publishing world. One of the things about having an MFA is that it puts you in touch with people in the publishing world. 
Q: There Thereis set in Oakland and its chapters focus on different characters. When did you realize you were going to write There Therein this manner? 
A: I thought of the basic premise at the end of 2010 . . .which was having all these lives converge at the Oakland Coliseum at a Pow-Pow. And I knew I wanted to take on something with a multivocality. The structure came together over the six or seven years it took to write.  The premise and wanting to write a book that had a lot of characters are things I knew from the very beginning. 
Q: I read that you got the idea of the title – There There– from Gertrude Stein "There is no There There." Can you elaborate? 
A: I was doing research for the book and I wanted to read what other Oakland authors wrote about the city. "There is no There There" was this line I found in Stein's Everybody's Autobiography. I immediately understood it to mean something else than what she meant, which was that her childhood was unrecognizable.  The parallel is that native people think about how things used to be and how native people who live in the city think of city as their home.  There Thereis about identity and how do you formulate an identity growing up in the city if the stereotype is that Indians are on land and have a relationship with the environment. And "There There" references Oakland, so it works that way too.
Q: You have won many awards this year. At the time of its release, did you believe that There Therewould garner this type of attention? 
A: I had a very modest idea. The book sold for a decent amount. I'd seen otherbooks that got similar attention, but don't end up doing well. Sometimes, you just don't know.  I wrote There Therebecause I wanted to get a job at my school. You have to publish a book to get a job here. 
(Tommy Orange does, indeed, teach at the Institute of American Indian Arts.)
Q: Do you have a favorite Ernest Hemingway book or story? 
A:  I was recently asked to write a story for an anthology called Indian CampRevisited.  Everyone who was asked to write a story is writing from the perspective of the native people. I am writing a story from the perspective of a native person above the tree line. "Indian Camp" is a pretty powerful story for how short it is. 
Q:  Where were you when you heard the news that you won the PEN/Hemingway Award? 
A: I was in a coffee shop writing when I received the email. 
Q: Are you working on anything new at this time? 
A: Yes. I am working on two novels and a short story collection. 
Wayne Catan, Brophy College Preparatory , July 29, 2019