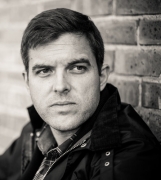 Kevin Powers won the 2013 PEN/Hemingway Award for The Yellow Birds
Q:  What was it like growing up in Richmond, and did your childhood inspire any aspects of your writing?
A:  It seemed unremarkable as a child. Only later did I begin to understand the way tragedy is woven into the history of my hometown. I write to better understand the world. There is still quite a bit I don't understand about Richmond and Virginia in general, so thankfully I have a lot to write about.
Q. You served your country in Iraq.  How did that experience influence your writing?
A:  It clarified my goals, for one. I didn't want to live with regret after coming home, so the idea of leaving my stories and poems in a drawer without finding out if anyone liked them seemed unacceptable to me. I knew it would be difficult to do this for a living, but I had already done the hardest thing I will ever do.
As for writing specifically, war also has a way of distilling human experience down into its basic parts. It's simple but incredibly intense, and so I eventually started to think I could communicate part of that to others.
Q. Critics compare The Yellow Birds to The Things They Carried. What are your thoughts about those comparisons?
A:  I'm flattered. I admire all of Tim O' Brien's books a great deal. I don't have much to say about it beyond that. I tend to think readers are critics' intended audience, and not authors, so I'll let people make up their own minds about that sort of thing.
Q. What was your reaction when you were informed that The Yellow Birds was being turned into a motion picture? Do you have any concerns about seeing your work adapted for the screen?
A:  I would have been really nervous if not for the group of people who started the process of adapting it. They've been wonderful to work with and I've felt all along that they were taking care of the book. Adapting a story into a completely different medium requires changes, and as I was not directly involved in making the movie, I was pleased that everyone involved wanted to make something interesting. I know they worked really hard on it. I couldn't have asked for anything more.
Q.  What is the inspiration for the title: The Yellow Birds?
A:  It comes from a marching cadence. I thought it captured some of the contradictions inherent in being a soldier at war.
Q. What was your time at the University of Texas-Austin and Virginia Commonwealth University like?  Were there any particular professors who nurtured your writing career at those institutions?
A:  VCU was the first place where I connected to a community of writers. I can't overstate how important that was for me. I'd had this passion for language my whole life, but I'd never really been around a group of people who shared that passion. It actually changed my life. Gary Sange taught the first poetry workshop I ever attended and continued to encourage me for many years after.
At Texas, I was given the time and freedom to work, which was equally important. And to have my work encouraged and my ideas challenged. I had the privilege of studying with Dean Young there, who is probably the most important teacher I've ever had. I had a lot of anxiety in grad school about whether or not I belonged. I now realize this is fairly common, but given the unusual path I took to get there, I often wondered if I deserved to be among such a tremendously talented cohort. Dean's openness to different approaches relieved much of the anxiety I had. I still try to remind myself to be as open as Dean would be. I was also able to work with Brigit Pegeen Kelly. She was simply one of the finest examples of humanity I have ever encountered.
Q. What is your favorite Ernest Hemingway title (book or short story)?
A:  A Farwell to Arms.  It's an all-time favorite of mine.
Q. Do you remember where you were when you received the news about winning the PEN/Hemingway Award?
A:  My wife and I were living in Italy while she completed her Master's degree. I was checking email in our back garden. It was a very special moment. 
Wayne Catan, March 4, 2017