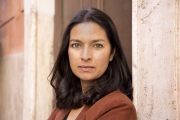 Photo credit: Liana Miuccio
Jhumpa Lahiri, 2000 PENHemingway Award Winner for Interpreter of Maladies
Q:  Can you tell us about the first story in Interpreter of Maladies, "A Temporary Matter" in which you write about a stillborn baby and the end of a marriage?
A:  That was the first story I wrote while I was a fellow at the Fine Arts Work Center in Provincetown. It was in the fall of 1997 and I had just finished my doctorate at Boston University. I wrote the story before I was married or had children. When I was seven years old close friends of my parents lost a child that was still-born and that tragedy had always stayed with me. But the story began with the idea of ongoing power-outages. In the early drafts I didn't know what it was going to be about apart from that.
 
Q:  Your parents are Indian and you were born in London before moving to Rhode Island as an infant.   Do you and your parents still speak Bengali, and what was it like growing up in Rhode Island?
A:  Yes, I still speak Bengali with my parents. There was a small community of Indians at the University of Rhode Island when I was growing up, and among them, very few Bengalis. Most of my parents' Bengali friends lived and continue to live in Massachusetts, and we went there often to spend time with members of that larger community. There was a lot of back and forth and a lot of energy put into creating and maintaining ties to Bengali culture and socializing. It took many years for my parents to feel settled in Rhode Island. By the time they did, I was an adult and no longer lived there. It felt isolating when I was a child. I was grateful for the ocean. But I never felt completely at home there, or anywhere.
 
Q:  Did your father, a college librarian, influence your love and understanding of literature?
A:  My father worked as a cataloger at the library of the University of Rhode Island and so libraries have always felt like homes, like sanctuaries. But my mother, who studied Bengali literature and wrote poetry, was more of a model for me. My father was a student of history and politics. On the other hand, he also loved studying languages, and that is a great passion in my life, one with growing significance. I was always fascinated by his foreign-language books and dictionaries.
 
Q:  Can you tell us about the trip to Florence that inspired you to explore Italian language and literature?
A:  I was writing my dissertation on the Italian palazzo as a setting for Jacobean tragedy, so initially I went to Florence to look at architecture. While there, I heard Italian being spoken all around me for the first time and felt the urge to be able to participate in that conversation. That desire triggered everything.
 
Q:  I read, in The Penguin Book of Italian Short Stories, that you read exclusively in Italian. Do you find it more rewarding now?  (Editor's note: Ms. Lahiri is the editor of the book and she introduces the authors and stories.)
A:  Reading in another language not only expands, enriches, and complicates our appreciation of literature; it insists on diversity and demands curiosity and respect toward all that is "foreign" to us. Translation enhances our sensitivity to what language is, to how it behaves, and we begin to realize that no language has power over the other. We also begin to make greater and deeper connections in the literary universe, to explore more freely.
 
Q:  How did The Penguin Book of Italian Short Stories come to fruition, and can you tell us about some of the authors and stories?
A:  In brief, I worked on the book for three years while I was teaching at Princeton and making frequent trips back to Rome. Some of the authors were dear to me before I began the project. Others were discovered as I put together the book. The vast majority of them were both writers and translators.
Editor's Note: In 2012, Ms. Lahiri chose to read only Italian literature in Italian. She moved there shortly thereafter. In 2016, her friend, Italian author Caterina Bonvicini, opened her library to Ms. Lahiri, and it was at this time that she "expressed the desire to assemble a collection of Italian short stories translated into English." She befriended Italians from all walks of life and discussed the rich literary history with them. She purchased voluminous amounts of second-hand books and read them all. This led to her selection process. There aren't any living authors represented—of the 40 selected.  She wanted: "To gather as many of the authors who have inspired and nourished [her] love for Italian literature, and for the Italian short story in particular." Another source of inspiration came from her reading Primo Levi's If This Is a Man on a plane from Rome to New York.  She wanted to "transmit this awe, to share [her] admiration for Levi and other Italian authors who had spoken to [her] deeply, who had taught [her] so much and who were now a part of [her]."
 
Q:  I also read that you live – at least part-time – in Italy. What intrigues you most about the culture there?
A:  I feel at home in Rome more than in any other place. At forty-five, I discovered my city. A place full of contradictions and beauty and humanity where I live most freely and fully.
 
Q:  Can you tell us about the classes that you teach at Princeton? 
A:  I teach workshops devoted to the study and practice of literary translation and to creative writing, usually fiction. I am currently teaching a course that uses The Penguin Book of Italian Short Stories as a text. I recently taught a course about Leonora Carrington, a British-born artist and writer who wrote in French and Spanish as well as English. I also designed and taught a class called "Hemingway in Italy" in which we read the stories and novels set in Italy and talked generally about how Hemingway's time and experiences in Italy, a country he profoundly loved, impacted him personally and creatively.
 
Q:  Do you remember where you were when you received the news about winning the PEN/Hemingway Award?
A:  I must have been in Manhattan, in my apartment on East 14th Street.
 
Q:  Do you have a favorite Ernest Hemingway story or book?
A:  I love almost everything he wrote. I love the short stories in particular, and also A Farewell to Arms. He changed the English language. I always teach "Cat in the Rain." So short, so perfect.
 
Q:  Are you working on anything new at the moment?
A:  I have just finished a book of poetry in Italian and am working on a book of short stories in Italian. I also just translated a novel that I wrote in Italian that will be published in English in 2021, called Whereabouts.
Wayne Catan, Brophy College Preparatory, March 25, 2020