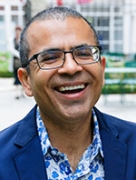 Akhil Sharma, 2001 PEN/Hemingway Award for An Obedient Father
Q: You were born in India. When did you immigrate to the United States, and did you ever feel like an outsider here? 
A: I came here in 1979 when I was 8. We lived in Queens, Virginia, and finally New Jersey.  We moved around a lot at first because my brother suffered a severe brain injury. My brother was in a nursing home in New Jersey. He passed away there, so that is how I landed in New Jersey.  
I think we all feel like outsiders. Everybody is different. We compare our insides to other people's outsides. In fact, we can feel like outsiders in our own families. Saul Bellow discusses this in his letters. 
Q: What was it like growing up in New Jersey?  Is it what people imagine?  
A: I grew up in Edison, and no it is not like what people think. It is not like "The Sopranos." Although there are nearby towns, which are like "The Sopranos," Edison is not.  Everybody's experience is different. Coming from India, I found New Jersey astonishingly green and astonishingly empty. 
Q: You traveled only 20 miles for college –Princeton. Did anyone there assist you in becoming a writer?  
A: Correct, I did not travel too far for university, but at that time I've never been to Princeton, so it was new to me. Everyone was influential at Princeton:  Paul Auster who was a teacher of mine; Toni Morrison, Joyce Carol Oates, John McPhee, Russel Banks, and Tony Kushner. When we think of influence we think of someone who can guide us with their encouragement.  (Maybe affected, not influenced, is a better word.) We watch how they behave, what they know, how well read they are.  I say to myself: This is all the stuff that I should know, and there is a sense of humility that comes from that.  I am affected by that writer.  I am also affected by their passions. For example, if someone has an interest in French writing, I want to learn more about it.  
Q: What was your time at Stanford like? (Sharma was a Stegner fellow.)
A: Stanford did not affect me the way Princeton did, but Nancy Packer, a short story writer, affected my work there.  
Q: Tell is about Ram Karan, the protagonist of your PEN/Hemingway Award-winning novel. Was he based on anyone you knew?  Where did you get the idea of the family structure in the novel? 
A: No. He was based on bits and pieces of people I knew. I had an uncle who worked for the physical education department in Delhi, but he was not a child molester.  Regarding the structure: in this family, the man has only two living children—one living in America one in India. He did not have five or six children.  I organized the novel this way to create a simple dynamic.  The daughter and granddaughter became a part of the plot, and they cannot get away from this guy. 
Q: Ernest Hemingway is one of your favorite authors. Why?   
A: I wouldn't say he is my favorite now, but there was a time when he was.  He is, though, the most influential of any writer I've read, and he affected my career at the right time. He was simple enough to copy. There are certain issues he grappled with, especially how he translated across cultures. He assisted Americans in understanding the cultures of Spain, Italy, and France.  He simplified it for Americans …  who did not understand those cultures.  He helped me understand how to write about being Indian, and for my readers to understand the culture there.  
Q: Talk about the impact that The Sun Also Risesand A Farewell to Armshave had on you?  
A: In these novels, he wrote about the cultures of Spain, France, and Italy in a way that Americans can understand.  He does not deal with issues of inferiority, which he does not readdress in the novels. He taught me to avoid it as well. Hemingway wrote about decent people doing decent things. I did not experience this.  I grew up with people who were not so decent. I had a family member who would steal sod from someone's lawn and put it on his own lawn.  What do you do with something like that? How do you process that into a narrative that has weight, gravity, and moral heft? Life is absurd. We think weird thoughts all day. Hemingway's characters do not think this way. He wrote about human nature and simplified what the story was about. 
Q:  How long have you been on staff at Rutgers-Newark?  Do you live in NJ or NY? 
A: I live in New York City. I've been on staff at Rutgers since 2011. 
Q: What do you like most about teaching there?
A: I like the students. They help me think. 
Q:  Do you remember where you were when you received the news that you won the PEN/Hemingway Award? 
A: I received a phone call from someone. It did not do too much for me. I hoped it would do more, but it did not. 
Q:  What are you working on now? 
A: I am working on a new novel. 
Wayne Catan, Brophy College Preparatory , January 22, 2019