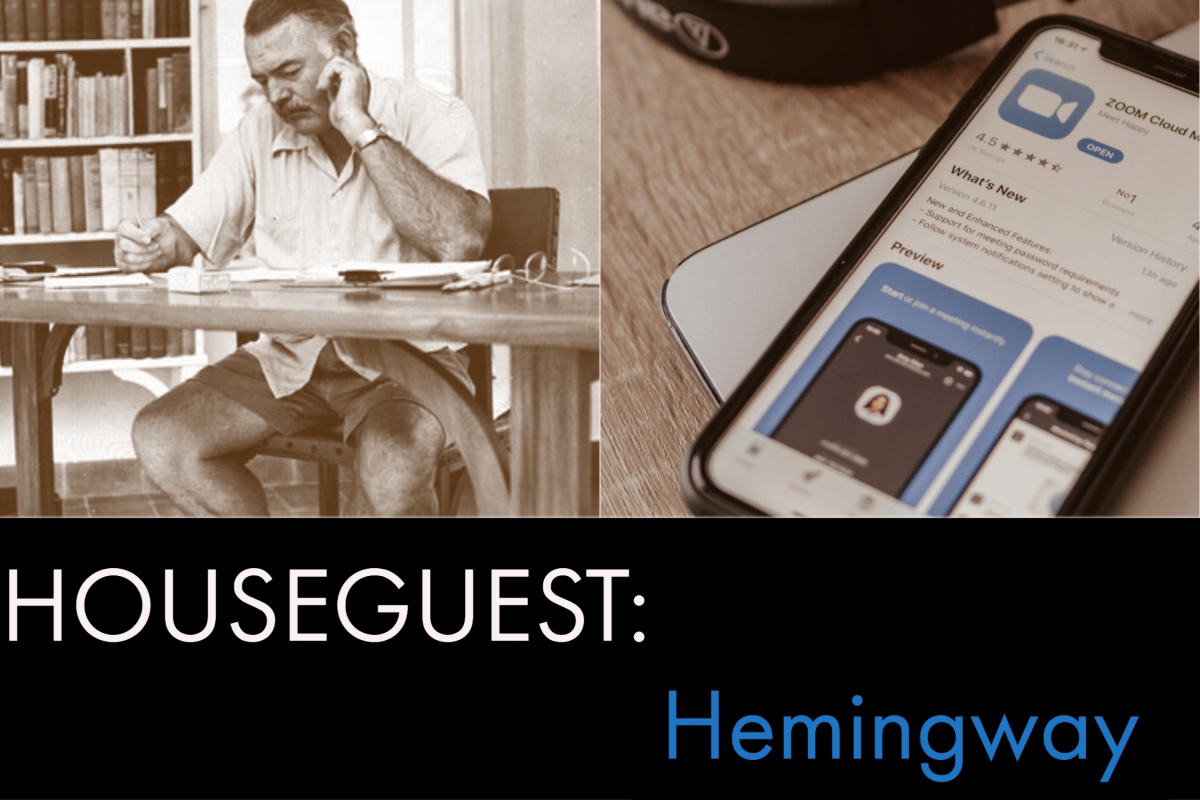 The "Houseguest: Hemingway" webinars are open to anyone interested in the life and works of Ernest Hemingway.  There is no fee and membership in the Hemingway Society is not required.
You are invited to join the Hemingway Society for three memorable days-- July 17, 18, and 19, 2020 for our first-ever webinar series: "Houseguest: Hemingway." A webinar (from the words "web" and "seminar") is an Internet audio-video meeting where presenters share knowledge, ideas, and updates with attendees. These dates also commemorate the dates of our founding conference on Thompson Island in 1980.
Although this webinar event could never take the place of our amazing biennial conference, we wanted to provide an opportunity to gather and connect, if only virtually, until we hopefully meet in Wyoming and Montana next summer.
Register for each of these webinar sessions below by clicking on the session title. Please keep mind you must register for each session individually.  Once you register, you will receive a confirmation email containing a unique link, for you only, to use when the session begins. You will also receive a reminder email with the link to join the webinar the day before the session and an hour before the session. Registration for all sessions closes on Wednesday, July 15th, 2020.
WEBINAR SCHEDULE:
(All times are EDT)
Friday, July 17th at 4pm EDT:  Welcome and Keynote
General Welcome, Carl Eby, President of the Hemingway Foundation & Society
 
 Keynote by Susan F. Beegel, "'How Do You Like Being an Interne?':  The Medical Education of Ernest Hemingway" 
The human body—suffering, in pain, in danger of death—is central to the work of Ernest Hemingway. A catalogue of the various traumas, disorders, and diseases in his fiction and nonfiction would run to many pages. His famous style was revolutionary because it was clinical, not literary. The medical world that shaped his sensibilities over a century ago is almost unrecognizable to us today, but worth exploring for a better appreciation of Hemingway as a man and a writer. This webinar will discuss his medical education by his physician father—both Ernest's indoctrination into the diagnostic art of observation and the science of anatomy, and his probable experiences while shadowing Dr. Hemingway, a general practitioner with an obstetric specialty. We'll look too at Hemingway's unexpected education in medicine when America's entry into World War I in spring 1917 upended his plans to attend the University of Illinois, substituting for classroom and laboratory instruction a direct experience of bodies sundered on the battlefield, his own wounding and hospitalization, and an influenza pandemic that killed 50 million people worldwide. Ultimately he chose to become a writer rather than a doctor, but a writer with a sense of medical vocation like that expressed by the surgeon in "A Natural History of the Dead": "My business is with the wounded."

 
Saturday, July 18th at 1pm EDT:  The Hemingway Letters Project Panel
This session will provide an update on the Hemingway Letters Project, the ongoing project to locate, edit, and produce the authorized scholarly edition of Hemingway's complete collected letters, being published in a projected 17 volumes by Cambridge University Press. Presenters in this webinar session will share highlights of Volume 5 (1932-1934), which will be published on June 11, 2020. The Letters of Ernest Hemingway Volume 5 (1932-1934)
"The Letters of Ernest Hemingway Volume 5: An Overview," General Editor Sandra Spanier will offer a look at some items of particular interest in the new volume, as well as a behind-the-scenes glimpse at what goes into producing a comprehensive documentary edition.

"Jane Mason: Beauty, Art, and Trouble," Miriam B. Mandel, co-editor of Volume 5, will discuss the role of Jane Mason in Hemingway's Cuban world. 

"Novel Research Methods: Tracking the Traveler Without Leaving Your Apartment," Katie Warczak, Letters Project graduate Research Assistant, will examine the challenges of tracking the movements of the peripatetic author, sharing how researchers identify places in Hemingway's letters based on internal evidence. She will also share how the RAs continued to do research despite campus closures and a statewide stay-at-home order.
 
Sunday, July 19th at 4pm EDT: Discussion of Hemingway, a documentary film series by Ken Burns and Lynn Novick
Hemingway. Directed by Ken Burns and Lynn Novick, written by Geoffrey C. Ward and
produced by Sarah Botstein, Novick and Burns. Hemingway is slated for broadcast on PBS spring 2021.
A sneak peek of excerpts and a discussion with director/producer Lynn Novick and producer Sarah Botstein 
Hemingway is a three-part, six-hour documentary film that examines visionary work and the turbulent life of Ernest Hemingway, one of the greatest and most influential writers America has ever produced. Interweaving his eventful biography, a life lived at the ultimately treacherous nexus of art, fame, and celebrity, with carefully selected excerpts from his luminous short stories, novels, and non-fiction, we will see beyond the façade of the public man, becoming intimately familiar with this brilliant, ambitious, charismatic, and egocentric genius.
*************************************************************************************************
Sunday, July 19th at 5:30pm EDT: Hemingway Society Membership Meeting
This year we will hold our first ever membership business meeting by webinar. Among other news and updates, we will share possible locations for our 2022 conference. To attend this membership meeting webinar, individuals must be current members of the Society and must click the title above to register for the meeting. To determine if you will be a current member on Sunday, July 19th, log on to the Hemingway Society website.