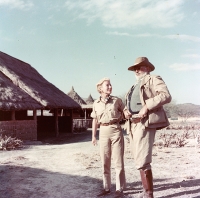 Ernest and Mary on safari in Africa 
(Public domain photograph digitized by the John F. Kennedy Presidential Library and Museum)
On Reflection: Ernest Hemingway Met his Match in Mary Welsh
Mary was a Camel-smoking, gin-drinking journalist in wartime London. She was a first-class reporter who swore like a sailor and, between assignments, had affairs with generals, journalists, and novelists.
Paula McLain wrote a splendid fictional account of Ernest's sweet and tender first wife, Hadley Richardson, who was married to Ernest for five years at the beginning of his writing career. Mary was married to Ernest during his last fifteen years. She traveled from the backwoods of Minnesota to become a journalist in Chicago and then to London to report on the war. Soon after meeting Ernest, she covered the liberation of Paris. When the war ended, Mary joined Ernest at his estate in Cuba and, despite misgivings, married him. The couple had adventures in Paris, Venice, Cortina D'Ampezzo, Torcello, Pamplona, Madrid, New York, and Sun Valley. They went on safari in Kenya and, after the revolution, moved from Cuba to Ketchum, Idaho. Mary shared Ernest's success when he won the Pulitzer and Nobel prizes, and she watched his decline and tried to save him from alcohol, depression, and suicide. Mary survived Ernest for twenty-five years and shaped his literary legacy. Anyone who enjoyed The Paris Wife will want to know how the story ends.
Mary's memoir, How it Was, captured me with its sparkling account of her life before and after meeting the world-famous novelist Ernest Hemingway. However, many scholars dismissed Mary for writing a self-serving, superficial memoir, which showed her merely living on the surface of life. They criticized her for failing to understand or analyze Ernest's work. Others scorned her as the "lowest born" of Ernest's four wives. One biographer dismissed Mary as a mere "caretaker wife," and Ernest's third wife, Martha Gellhorn, called her a "maggot of history."
I recoiled against these inaccurate and even cruel claims as I learned more about Mary. I found she was from a good family and that she was brave, disciplined, intelligent, and an excellent writer. Her memoir constructed a version of her life with Ernest, whom Mary understood as well as anyone possibly could. Mary was an admirable woman who succeeded as a journalist in a man's world in wartime, becoming the first woman to write about foreign affairs for Time. Moreover, she played a crucial role in Ernest's creative life—persuading Ernest not to kill off Santiago in The Old Man and the Sea, for example.
After Ernest's death, Mary actively managed his literary estate, and dealt with leading scholars. She appointed Carlos Baker as the authorized biographer. He was her second choice after Paul Mowrer turned down her invitation because he felt he was too old, at 74, to complete the work. Mary had told Mowrer that a book written by him "would be far better than one by Baker." She told Scribner's, "It would seem curious to me to read about Ernest in the rather pretentious, professorial language which Mr. Baker sometimes employs." Mary was not intimidated by the Princeton professor and monitored him closely.
Mary traded pointed letters with Professor Gerry Brenner, correcting sharply his thesis that Across the River and Into the Trees was inspired by Dante's Inferno. It was "imagination or charlatanism, to assume or aver that. Come off it, please," she wrote.
After attending the 1976 Alabama conference "Hemingway, a Revaluation," Mary said she had never heard such a "profusion of drivel and misinterpretation."  If scholars earned their living "by telling people what Ernest meant or why he wrote something, "it certainly is easier than digging ditches or selling shoes." But she was not impressed with their work. Mary met the 35-year-old Stoney Stoneback at the Alabama conference. He took Mary to a concert on campus featuring Jerry Jeff Walker who sang his famous song "Stoney." Mary and Stoney became friends. Two years later, Mary, the first woman admitted to membership in The Lotus Club, supported Stoney's nomination to membership in that literary society founded in 1870 and boasting Mark Twain as a member.  Mary liked and admired some scholars but protected Ernest's reputation from interpretations she considered fanciful.
Timothy J. Christian is the author of Hemingway's Widow:  The Life and Legacy of Mary Welsh Hemingway (Pegasus, 2022).  He is a former professor of law and dean at the Faculty of Law at the University of Alberta.
Timothy J. Christian, May 21, 2022