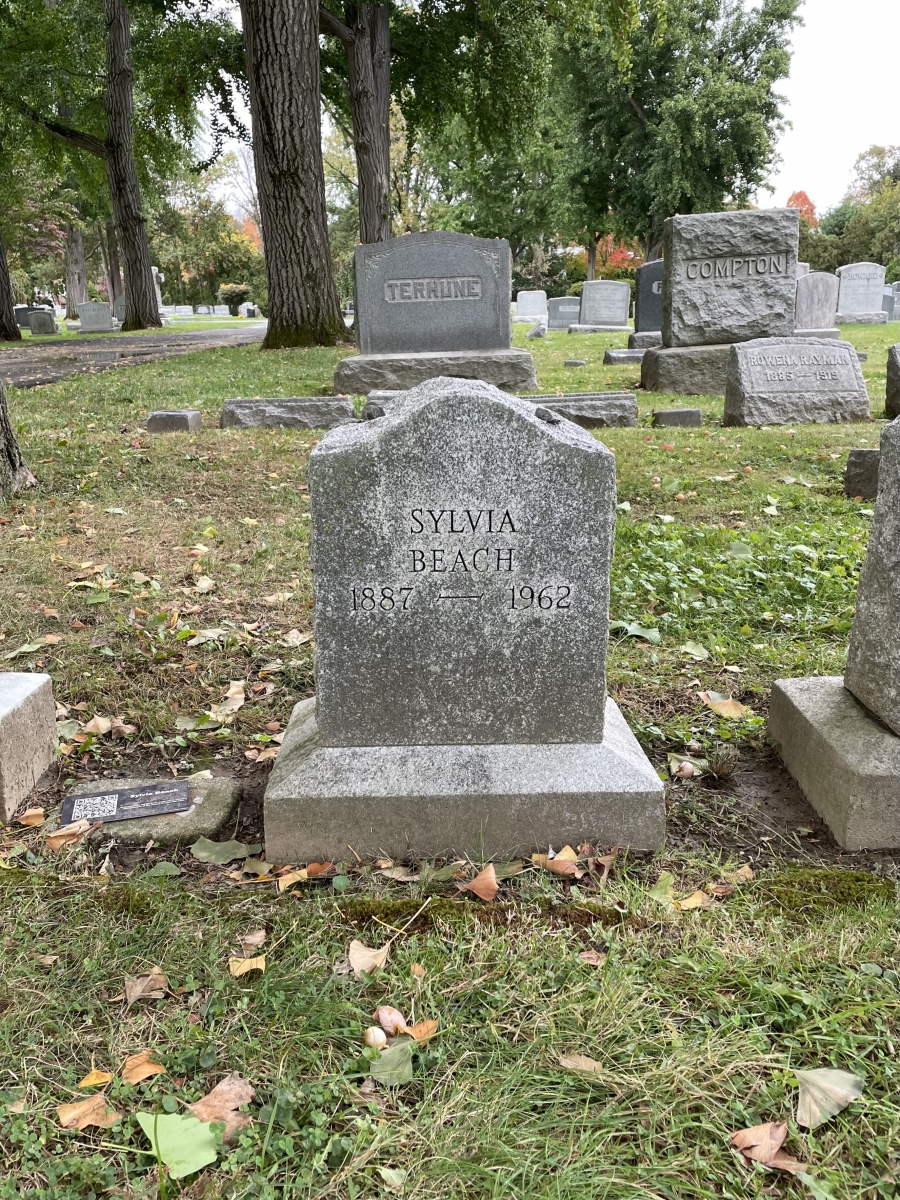 Happy Birthday to Sylvia Beach, born on this day in 1887!
In A Moveable Feast, Ernest Hemingway would recall her lending library and bookstore Shakespeare and Company, located at 12 rue de l'Odéon, as "a warm, cheerful place" that drew him in almost immediately.  Hemingway and his wife Hadley had arrived in France on 20 December 1921, and within a week he was a regular at the shop.  Hemingway recalls that he was initially shy, but he seems to have gotten over his hesitation almost immediately.  Beach's account of their first meeting is of an amiable Midwesterner pulling up his pant leg to show her his scars from his war wounds. On 28 December 1921, Beach would enter into her ledger a subscription for this endearing  new customer. 
The subscription was for two volumes, but in MF Hemingway writes that Beach let him make additional selections.  Hemingway's reading list from these earliest days is presumably lost, though researchers at the Shakespeare and Company Project are piecing together the records of Hemingway's and others' reading habits.  Notably, existing records of his later borrowing history show that, of the books he names in MF as his very first selections--A Sportsman's Sketches by Turgenev, "an early book of D.H. Lawrence [...] Sons and Lovers," War and Peace, and The Gambler and Other Stories--he would borrow the Turgenev again and again (in 1925, 1926, 1929) and check out the Gambler in 1927, as well as other titles by Lawrence, too.  Perhaps Hemingway liked to re-read old favorites; perhaps he conflated his selections for artistic effect; perhaps he misremembered.  Perhaps all of these possibilities are true. 
What is certainly true is Hemingway's deep affection for Beach. "No one that I ever knew was nicer to me," Hemingway recalls in MF.  In the archives of the Sylvia Beach papers located in Special Collections at Princeton University's Firestone Library, we see the evidence of their friendship in the form of numerous inscribed books and photos as well as in his letters, which are included in The Letters of Ernest Hemingway.  Though she was not one of his most frequent correspondents, it appears that whenever Hemingway passed through Paris he stopped in to visit and to sign a copy or two of whatever his latest work was for his friend. And he was there in 1944 when the war ended, "liberating" the shop, if only symbolically.
A few weeks before the centenary of Hemingway and Beach's first meeting--which happened to fall only a few weeks before the centenary of Beach's landmark publication of James Joyce's controversial Ulysses--I was glad to find myself at the Firestone library and to hold in my hands the priceless artifacts of this important friendship. After going through Sylvia Beach's stuff all morning, I took a short walk over to the Princeton Cemetery, where Beach is buried, to pay my respects.
Some readers might be surprised to learn that Beach's final resting place is not in Paris, the city she called home for decades, where she stayed even after the Nazi occupation closed her shop, and where she died in 1962. Rather, her grave is in the cemetery of the church where her father had been a minister. Marked with a simple headstone, it is a quiet spot to reflect upon the contribution of someone who, while not a writer herself, played a key role in the shaping of literary modernism.
Verna Kale is an associate editor with the Hemingway Letters Project and an assistant research professor of English at Penn State University. Along with Sandra Spanier and Miriam B. Mandel, she is currently co-editing The Letters of Ernest Hemingway Volume 6 1934-1936 (Cambridge University Press, forthcoming 2023). She is the author of Ernest Hemingway (Reaktion, 2016), editor of Teaching Hemingway and Gender (Kent State University Press, 2016), and a member of the board of the Hemingway Society.
Verna Kale, March 14, 2022