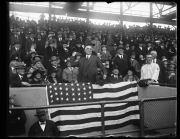 Warren Harding throwing a baseball at Washington game 
[between 1921-1923]
Photo: https://www.loc.gov/pictures/item/2016894389/ 
The 1921 baseball season — which took place while the young, aspiring writer Ernest Hemingway was living in Chicago — was a dramatic year in the history of the sport. It witnessed the rise of Babe Ruth and the Yankees (who would win their first pennant); the criminal trial of the "Black Sox" players accused of fixing the 1919 World Series; the first broadcast of a Major League Baseball game on commercial radio; and the first season of the Negro National League following its founding in 1920.
Thanks to the Society for American Baseball Research's (SABR) Games Project Research Committee, a century after these events took place, it is now possible to follow along with the season as baseball fan Ernest Hemingway experienced it. New 1921 games are being posted every month on the SABR.org website (https://sabr.org/gamesproj/category/decade/1920s/) and you can even follow along "in real time" since game summaries are being posted on the day they first took place 100 years ago on the SABR Games Project Facebook Page (https://www.facebook.com/SABRGames) and on Twitter (@SABRGames).
Notable games from April 1921 that have already been posted on SABR.org include:
You can also read about the April 1921 game that Hemingway, like other White Sox fans, would have found a somewhat somber occasion – the first home game of the White Sox in the aftermath of the Black Sox Scandal.
Sharon Hamilton, May 24, 2021