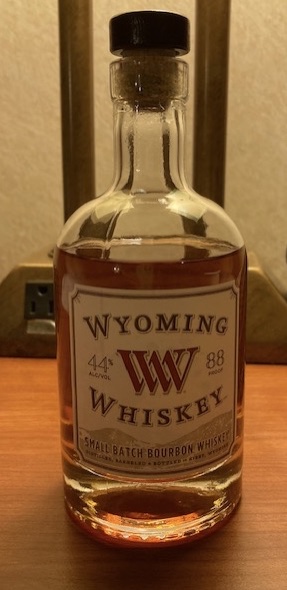 Bottle of Wyoming Whiskey
"You don't see that every day," John motioned upward toward the back wall of the Occidental Hotel's bar and dining area, pointing out the stuffed and mounted head of a steer.
On the drive toward Sheridan, we had made a detour into Buffalo, Wyoming, to the Occidental Hotel, as part of our Ernest Hemingway pilgrimage. The hotel's interior was alive that Saturday evening with people of all ages packing the wooden tables—engaged in happy chatter. It was a striking contrast considering the many deceased animals adorning the walls. Some might not find the idea of dining in a room beset by hunting trophies particularly jovial or cozy, but that it was demonstrated yet another delightful contradiction Buffalo had to offer.
According to an audio guide about Hemingway's time in Wyoming, the Occidental Hotel was where he stopped when—as we did—making his way toward Sheridan. If our visit so far were any indication, Ernest too likely enjoyed good food and good company. 
As though the décor and food alone weren't fulfilling enough, we were soon swept away by another source of happiness when an aged cowboy, guitar in hand, took a seat on a three-legged stool and began to sing. At first he applied his melodic and grizzled voice to various covers, like Johnny Cash's "Folsom Prison Blues" and "Ring of Fire," following those up with original songs. But we were truly astonished when he began strumming the opening chords of Prince's "Purple Rain," performing a remarkable unplugged version of the song.
Like the superb dinner of beef tips with which the evening began, the singing cowboy upended our expectations. Our time spent in Buffalo seemed an appropriate testament to Ernest, who himself defied expectations and embraced new adventures. But the time had come to move on.
Buffalo, though, was not done with us, having one more surprise in store.
Turning a corner while heading toward the highway revealed a large white sign atop a beige building, proclaiming: Crazy Woman Liquors. Bursting with laughter, we almost simultaneously exclaimed, "We have to stop there!"
Inside, we each picked out wine to later enjoy. Sharon had her Cabernet Sauvignon, and John his Pinot Noir. Behind the checkout counter, Sharon noticed a bottle of "Wyoming Whiskey" perched on a high shelf. Remembering John had hoped to try some local bourbon, she asked to see the bottle.
The woman minding the store brought it down and placed it on the counter. "It's much better than it was," she said. "They didn't know what they were doing at first."
It was impossible to not laugh at these statements, undoubtedly near the top when it came to worst sales pitch ever made for untried alcohol. But how could one not accept the challenge?
"We have to get it now!" Sharon proclaimed, prompting more laughter from all.
"You guys are fun," the woman interjected brightly. "Here, take some bumper stickers," she said, pushing over two strips of glistening white. "They're usually three dollars, but you can have them for free."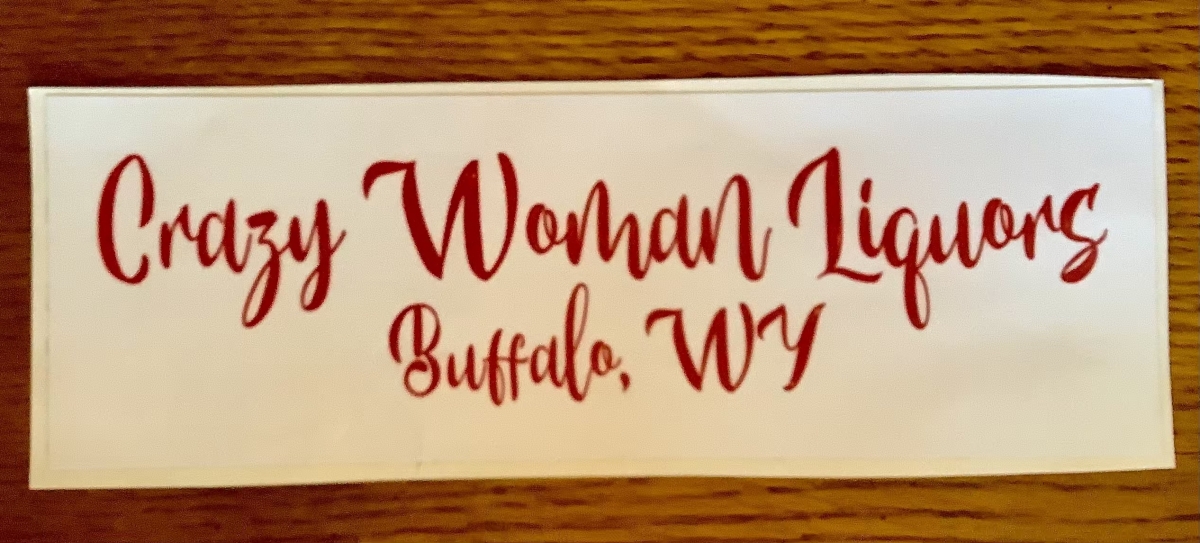 Bumper sticker for Crazy Woman Liquors, Buffalo, Wyoming
Armed with bumper stickers, wine, and apparently mediocre bourbon, we made the rest of the drive to Sheridan. The evening ended with the fateful decision to try our "Wyoming Whiskey."
"Wow, that's strong stuff," Sharon said, her throat ablaze.
"Yeah, basically moonshine," laughed John.
That this new-found prize was reminiscent of something borne from an illicit still was, in a way, appropriate. After all, when Ernest arrived in Wyoming, America was under Prohibition. 
After some experimentation, we discovered that when poured over ice and cut with purified water, "Wyoming Whiskey" became a fine drink. And by the end of a week spent celebrating Ernest's experiences in the American West, the bottle was empty—now that we, like the distillers, knew what we were doing.
Works Cited
"Hemingway Highways – Sheridan: Ernest Hemingway's special connection to Wyoming." Audio Tour. Presented By WY Humanities Council. https://web.travelstorys.com/single.php?k=9ukdSnMx01ExuG01PCrg. Accessed 11 Aug. 2022.
"The Historic Occidental Hotel" https://www.occidentalwyoming.com. Accessed 11 Aug. 2022.
Sharon Hamilton is a member of the Hemingway Society Board. She has blogged previously for the Hemingway Society about visiting Hemingway and Hadley's Chicago Apartment and about Hemingway's New Orleans.
John Hargrove is a Michigan-based writer and Hemingway researcher; he is also the founder of "Ernest Hemingway: The True Gen," an online community of Hemingway researchers and aficionados hosted on social media.
Sharon Hamilton and John Hargrove, September 6, 2022