Oak Park in 2016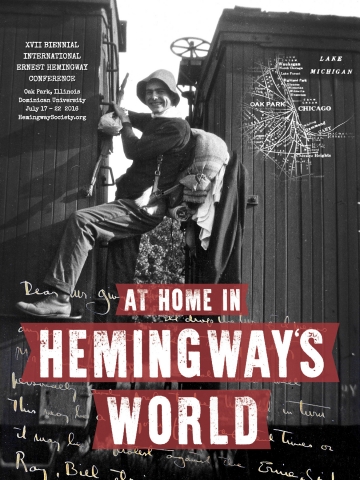 The Hemingway Society, the Ernest Hemingway Foundation of Oak Park, and Dominican University are thrilled to announce their partnership in hosting the 17th biennial international Hemingway Society conference at Hemingway's hometown of Oak Park, Illinois.
Celebrate Hemingway's 117th birthday with the largest gathering of scholars and fans from all over the world. Click here for conference registration information
At Home in Hemingway's WorlD 
July 17-22, 2016
Conference participants will enjoy excellent presentation venues at Dominican University, beautiful event venues in Oak Park and River Forest, including the birthplace and the North Kenilworth home, and opportunities for exploring the Art Institute, the Newberry Library, and other historic Chicago sites. Participants are encouraged to join The Ernest Hemingway Foundation of Oak Park in celebrating Hemingway's birthday with the community the weekend following the conference.
Some highlights include: 
Participants will be coming from 18 countries: 

Albania, the Bahamas, Canada, China, F

rance, Germany, India, Iraq, Israel, Italy, Japan, Macedonia, the Netherlands, Serbia, Spain, Switzerland, the United Kingdom, and t

he 

United States. 

Novelist Tim O'Brien, author of Going After Cacciato (National Book Award), The Things They Carried, and In the Lake of the Woods, will deliver a keynote Tuesday evening talk. Conference participants have free admission; the general public can purchase tickets for this event here: An Evening with Tim O'Brien.

Documentary filmmakers Lynn Novick (director), Sarah Botstein (producer), and Geoffrey C. Ward (writer), all longtime collaborators of Ken Burns, will discuss their creative process as they embark on a documentary biography of Hemingway. The film, co-directed by Burns and Novick, is a production of Florentine Films, and will air on PBS in 2020.

A selection of Grace Hall Hemingway's paintings will be exhibited alongside contemporary art inspired by Hemingway at the Oak Park Art League, as well as

 watercolor paintings

by Illinois Artist Laureate Kay Smith

 

in a special exhibit at Oak Park Library Art Gallery

Parallel programs will offer opportunities for teachers seeking continuing education and for undergraduate Hemingway scholars in a one-day symposium. 

To register for the one-day Teaching Hemingway in-service program and receive state-approved professional-development credits please complete this

Teaching_Hemingway_Registration_Form

.

Dominican University's Rebecca Crown Library has assembled online resources related to the conference theme: Library Resources.
Spread the word, stay tuned for more information, and we hope to see you in Oak Park!
Alex Vernon, Conference Director and Program Coordinator
John Berry, Site Coordinator, Oak Park
David Krause, Site Coordinator, Dominican University