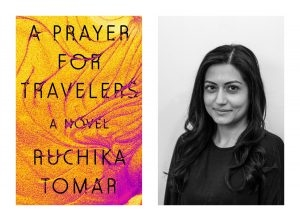 2020 PEN/ Hemingway Award

Ruchika Tomar, A Prayer for Travelers (Riverhead)
Critically-acclaimed debut novelist Ruchika Tomar is the winner of the 2020 PEN/Hemingway Award for Debut Novel, for A Prayer for Travelers (Riverhead).
Honoring a distinguished first novel, the PEN/Hemingway Award includes a $25,000 prize intended to allow significant time and resources with which to pursue a subsequent work of fiction. The prize is underwritten by the Hemingway family and the Ernest Hemingway Foundation. Tomar will also receive a month-long Residency Fellowship at the Ucross Foundation in Wyoming, a retreat for artists and writers, valued at $10,000.  
This year's judges—R.O. Kwon, Terese Marie Mailhot, and David L. Ulin—wrote the following citation: 
"A Prayer for Travelers by Ruchika Tomar is a remarkable piece of writing, astute in style and structure and also in the story that it tells. Unfolding in a small town in Nevada, it traces the friendship of two women, a relationship that grows complicated until it shatters, and one of the friends disappears. Tomar is an exquisite writer, and A Prayer for Travelers is marked by a deft and deeply rendered sense of place. Even more, the novel pushes back against our preconceptions, shifting fluidly in time to evoke a sense of the floating nature of existence, especially for characters such as these, who find themselves, in nearly every way that matters, having to reckon with what it means to live on the periphery."
Hailing from California's Inland Empire, Tomar, holds a BA in English literature from the University of California Irvine and an MFA from Columbia University. She has received fellowships from the Center for Fiction, the MacDowell Colony, and Vermont Studio Center. A former Stegner Fellow, Tomar is currently a Jones Lecturer at Stanford University.
The two PEN/Hemingway Award runners-up are Stay and Fight by Madeline ffitch (Farrar, Straus and Giroux), and The Travelers by Regina Porter (Hogarth). Alongside finalists, 99 Nights in Logar by Jamil Jan Kochai and Big Familia by Tomas Moniz, all finalists and runners-up for the prize will receive a Residency Fellowship at the Ucross Foundation in Wyoming.
Under normal circumstances, the PEN/Hemingway Award Ceremony takes place at the John F. Kennedy Presidential Library and Museum in Boston, and is free and open to the public. Due to current concerns of the COVID-19 virus, PEN America and the Library are saddened to inform the public that the 2020 Ceremony is postponed until further notice. We are working hard to properly honor these writers in a way that is safe for them and the Boston community. Those interested in attending should email awards@pen.org or visit www.jfklibrary.org for updates.
The PEN/Hemingway Award Ceremony is supported by the John F. Kennedy Presidential Library and Museum, the John F. Kennedy Library Foundation, the Hemingway family, and the Friends of the Ernest Hemingway Collection.